Infrared red light therapy has become a popular choice in the beauty and wellness industry. But with increased popularity, there has been a significant rise in misconceptions about it. This post covers some of the most common myths about body wrap treatments floating everywhere.
Myth 1: Body wrap Treatments are Unsafe
One of the most popular misconceptions about body wraps like red light skin therapy is that it's unsafe. However, the truth is that the treatment is entirely safe. Moreover, more than half of the rays emitted by the sun are infrared rays. This means all living beings absorb IR rays daily. The safety of infrared rays can be evaluated from the fact that it's used in hospitals to keep premature babies warm.
Myth 2: The Treatment Dehydrates the Body
Many believe that body wrap treatments caused dehydration. But so do any intense workout or exercise. Any physical activity that promotes sweating causes the body to lose water weight. However, infrared treatments like body wraps are different in the way that it penetrates the skin 1.5 inches deep. While regular exercises only flush out 3% of body impurities through sweating, IR treatment discards over 20% of toxins from the …
March 26, 2020
You know that one prized pair of pants that fits you just right? Well, stocking your wardrobe with similarly flattering items is not as tough as it may seem. While the perfect pants, dress and blazer may seem elusive, it's just a matter of knowing what to look for in the dressing room. We talked to the experts and learned what to zero in on—and when to head to the tailor to let them work their magic.
Dress Pants/Trousers
"Generally, the rule of thumb is that you should be able to put two fingers inside the waistband to have a little wiggle room," explains Christine O'Donnell, boutique manager at Madame Paulette, a custom alteration and couture cleaning company in New York City. Since most women aren't the exact same size each day—"sometimes you're bloated," she says, for example—it's important that your trousers won't suddenly become too tight.
Also keep in mind:
If there's puckering or wrinkling in the front panel, the pants are too tight. And if there's billowing and fabric that doesn't lie flat—often when you sit down—the pants are too big.
Don't worry if the pockets look funny. "No matter how well-designed the pants are and how well
…
March 18, 2020
There are more brands and designers offering unisex garments as part of their collections in 2020, and you might not think it, but it's working. Here's a look at some trends that are taking the fashion sector by storm.
Streetwear Brands
While designers such as FADED don't advertise their products as unisex, there customer basic for their menswear is growing, and it's including celebrities and women. Celebrity DJ's, Z-Listers and many more women are finding the mens graphic t-shirts and oversized fit perfect for their streetwear collection. There are plenty of other brands in a similar situation and they're all promoting it on their social platform to encourage more to join the style, regardless of gender.
Puffer Jackets
A couple favourite for a winter holiday. Puffer style jacket are being released for both men and women and suit all. The jackets natural oversized style gives the perfect winter fit and on the high-street at companies such as Uniqlo style their jackets in completely different way for men and women to show the variety that can come from their simple garments.
Check Fleeced Shirts
Similar to puffer jacket the oversized gender friendly style is taking over smart casual styles. …
January 31, 2020
Over the years, watches have evolved to become more than a tool to tell time. They have incorporated many aspects of modern design and have become a fashion statement.
Some of the most popular watches are Scandinavian watches. The Scandinavian region has proved itself as the hotbed of modern watch brands and lots of watch designers.
Here are some reasons why you should get yourself a Scandinavian watch brand.
Simplistic modern design
Scandinavian watches are distinct based on their simplistic and beautiful design. When you wear one on your hand, it is easily recognizable from its beautiful design. The minimalist design on these watches expresses the skills and inspiration of the region's numerous watch designers.
Unique materials used to produce the watches
Besides their beauty in design, Scandinavian watches are also built using unique materials. One of the leading watch brands is made from materials of salvaged classic cars such as the Mini Cooper and the Ford Mustang.
Scandinavian watches also come in wood and as jewelry encrusted watches for both men and women. In line with their history, Scandinavian designers make their watches also from steel that was used by their ancestors to make swords.
Price
Another reason why …
November 27, 2019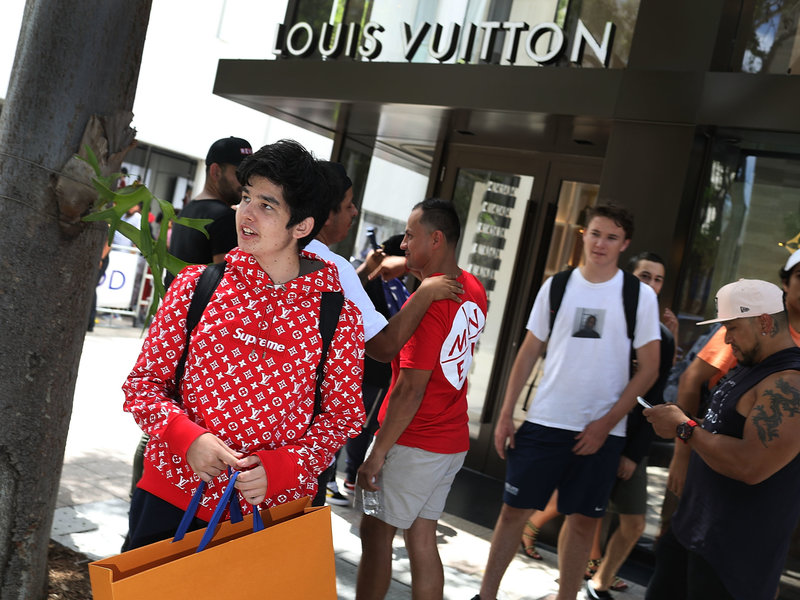 Streetwear is one of the biggest style trends across the world in 2019. Fast fashion brands and high-end streetwear brands alike are creating cool and edgy pieces. Even high-end brands such as Louis Vuitton and Gucci, who are known for designing elegant and exclusive fashion pieces have moved towards a more casual streetwear look.
Substance has become less of a factor and style is the residing aspect that high-fashion companies are focusing on. In attempts to stay relevant and to connect to the younger generations, designer branding on streetwear clothing has become a huge factor. Influencers are plastered all over Instagram for sporting high-end brands with more of a cool and casual look.
Streetwear currently makes up 30% of the overall fashion market, which is mainly due to the aforementioned brands who have invested a considerable amount of resources to their collections to keep on-trend and relevant. With this being said, it's important to take a deeper look into the industry.
Branding over quality
When it comes to streetwear, it's clear to see that these high-end brands value branding over substance. Big-name brands like Supreme and Anti Social Social club have been under fire in the fashion industry for pushing …
September 26, 2019